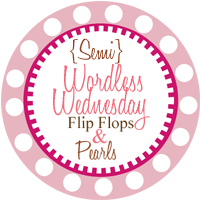 Did you know that it is not officially spring until March 20th? (Em, I think this means that you are technically a winter baby.) Oh my goodness, but this past winter has been so warm that I am already spoiled by the warm weather we have been having...all.winter.long. Seriously, I think we have had only two really cold spells. Last week one day there was snow on the ground, and two days later I was outside running in shorts. Insane.
Yes, I posted yesterday about all of the brightly colored jeans that we are seeing everywhere. As popular as brights are, pastels are equally as popular. As long as you're seeing color, it's definitely "in" right now. I have not participated in Semi-Wordless Wednesday in a while, thus I'm posting lovely pictures today.

Everything about this outfit makes me giddy with delight anticipating the upcoming season. Come on, spring!