Today I am linking up again with Alison over at
Long Distance Loving
for her Friday's Fancies series. This week the theme is "Red + Pink." Whether you love or hate the
little
big holiday that is coming up next Tuesday, it gives us all a wonderful opportunity to break out the heart patters and wear red and pink. I picked up a pinkish mauve blazer for my sister and mailed it to her last week. I stated in the message that she can boycott the holiday, but to please at least wear the blazer anyway. (She has boycotted V-Day for as long as I can remember.)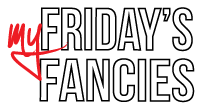 I absolutely adore both pink and red, but when you add the two together I think it is a killer combo. Embrace the color blocking trend right now and wear them together. There are so many shades of pink that are popular right now that I had a hard time choosing what to put together. I could have come up with gobs and gobs of outfit options.

Pinterest never lets me down when it comes to finding inspiration for fashion. Here are a few of my favorite red and pink pictures that I have seen lately.

Have a wonderful weekend, lovelies!