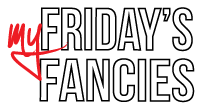 Woohoo for Friday!! Today I am linking up with Alison from
Long Distance Loving
for her Friday's Fancies series. There are so many wonderful links being posted, be sure to go over and check them out! This week's theme is "Spring Fever". I don't know about you, but this mild winter we've been having has got me dreaming of spring extra early this year.
Coral is by far one of my favorite colors right now. I see it everywhere, I like it everywhere. When I found this picture on Pinterest, I knew that the search for this dress had begun. I've tracked it down to Mango's spring collection, but is is not available on their site yet.
Thus, I have come up with my own day-to-night creation that is very similar. I am always such a sucker for stripes, so it is no surprise that I am already dreaming of wearing brightly colored stripes this spring.
This is a very simple dress that can easily be dressed up or down. I can see it easily being worn during the day, then sprucing it up at night with a belt and heels. It would also be a versatile piece to take on your spring break trip. There are tons of striped dresses out there right now, but of course I like the pink best. Have a fantastic weekend!
..........
Don't forget that Sunday is the day that Jason Wu's collection debuts at Target!