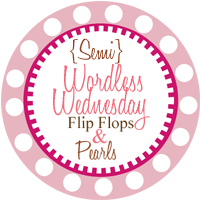 The spring winds always make me think "sailing weather!" Did you know that Bryan's and my first date was on a sail boat? Yep, that boy whisked me away on a romantic cruise for two...only to return to land a short hour later due to a storm. Needless to say, I'm a sucker for all things nautical. Even this necklace backed by stripes sings a sailor's song.
This picture inspired today's post. How perfectly does the rope necklace go with this top? Beautifully!
Striped outfits galore, this is one of my favorites that I have found already put together.
Planning a nautical themed wedding? I think there are so many lovely options out there for adding a little bit of flair to your invitations.
<
I know I have posted this room before, but the thick stripes keep me coming back to it again and again.
Someone please find this outfit, 'cause I want it from top to bottom!
Happy Hump Day!!