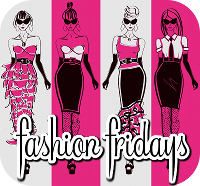 When Kori at
Blonde

Episodes
switched her Friday posts to Fashion Friday I could hardly wait to participate! (So...it just took me a few weeks.) While I was in
NWA
last week, I picked up a couple different bracelets that I though would stack wonderfully together. As I went to take a picture of them I could not find the main one. Go figure! I am loving the stacked bracelets trend that is buzzing about right now. There are so many combinations from leather, gold and silver
mixings
, even colorful jewels and rhinestones. I have tons of bangles that are in sets that can be mixed and matched. For the look with
bracelets
that are not the same, I try to start out with one larger piece.
Next, add any other bracelets to make combinations. If you are wearing something really funky, go for totally mismatched. If you are out for dinner in a nice outfit, stack some bracelets that are more suited for the occasion.
Leather bracelets are hot. Wear them wrapped or in stacks with
metallics
and shimmer.
Can you tell what colors I am really liking right now?
These are three of my favorites (other than some that I posted a few weeks ago). I guess I go for the more polished-thrown-together look.
Stack them to your own liking. There are tons of variations.
Or you can throw a watch in for good measure. (Maybe even more than one!) The options are limitless, just be sure to have fun!