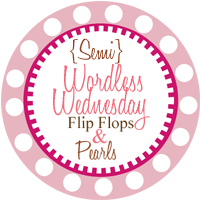 One of my favorite things to do on Wednesdays is link up with Daph over at
Flip Flops and Pearls
. I have not done it lately, but I actually thought in advance this week and planned it so that I could link up with her today. Be sure to go over and tell her hello!
I wanted to do a post on wellness today, so I combined the wordless and wellness part. Let's get down and dirty, how is your New Year's fitness goal going? Come on, I know a lot of you made them. I did not exercise last week, but this week I am back on board and feeling better than ever. If you miss a week do not feel like you are a failure, pick back up and get on with it. Only you can make a difference! I only allow myself to by healthy foods at the store. You do not see me putting chips or cookies into my buggy. Except for that late-night run to the store with Dr. Ash on Sunday. If I have them, I will eat them, so therefore I just don't do it. If you eliminate the bad snacks, you force yourself to eat the good snacks that you have purchased. That in itself is a huge help!
This has been posted before, but I want to share it again with you today. When my mind draws a blank, I find myself going back to this to look for a new option.

I have found lots of motivational pictures, but when I stumbled across this work-out plan, I knew that it needed to be shared.
Get that body ready for bikini season...you've got plenty of time...it's only January, ladies!
One of the most important things to remember is to drink water. Drink water. Drink Water.
Have a great and healthy day!