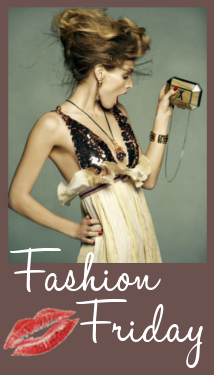 Happy Friday, lovelies! Are you as glad as I am that the weekend is almost here? I
struggled
through the day yesterday. At noon I was looking at the cabinet and thinking it was 5 o'clock somewhere, but instead of opening it I got out a work-out video and burned some calories. Today I am linking up with Kori over at
Blonde Episodes
for her Fashion Friday series. Head over and check out some great blogs that are linking up!
1.
Green
is my favorite color.
This
Alice + Olivia bodysuit paired with their high-waisted pants are the epitome of sexy chic.
2. Animal prints always seem to suck me into their lair. I have more variations of animal print scarves than any other kind. And with
green
, they equal perfection.
3. If it did not get so darn hot in the south, boots might possibly adorn my feet year-round. Ok, so probably not...I do adore my McKims in the summer.
4. Have I posted this dress already? Hum...I do not remember, but I very possibly could have and just have forgotten. Tucker remains one of my all-time favorite labels.
This
dress keeps calling my name--you know the dots get to me.
5.
Emi-Jay
hair ties make me smile every time I use one. They do not pull or dent your hair, plus they are made in the USA!