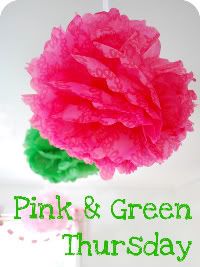 Happy Pink and Green Thursday, my sweets! Do you have your shopping complete for your sweetie pie's pressie on Monday? Not to worry if you don't, you still have the weekend to figure out the perfect gift. Hubby and I already exchanged gifts--WHAT?? Yep, he got me a bra. So romantic, right? Well......it is actually a new sports bra that I have been desperately in need of. Actually, we have a pretty big weekend planned in New Orleans and that is our Valentine trip. It's time to celebrate the wedding of two wonderful friends!
I can hardly wait to get all dolled up and wear dressy clothes!! No matter how old you get, don't you agree that all girls like to play dress up?
Are you the kind of person that wears orange in the fall, red at Christmas and pink around Valentine's Day? I have to admit that I have packed a little something pink to wear while we play on Saturday.
I cannot figure out what shoes to wear tomorrow night to the rehearsal dinner. I sent Em options yesterday and I am still just blah about them. I guarantee that if I had any of these I would be finding a dress to wear with
them
.
I hope everyone has a wonderful weekend and I will be back on Monday.